Why Wooderful Life?
Our music boxes make the perfect gift choice for any occasion - birthdays, weddings, anniversaries, or even as a thank-you present.
Featuring unique designs and delightful melodies are sure to bring joy and happiness to your loved ones.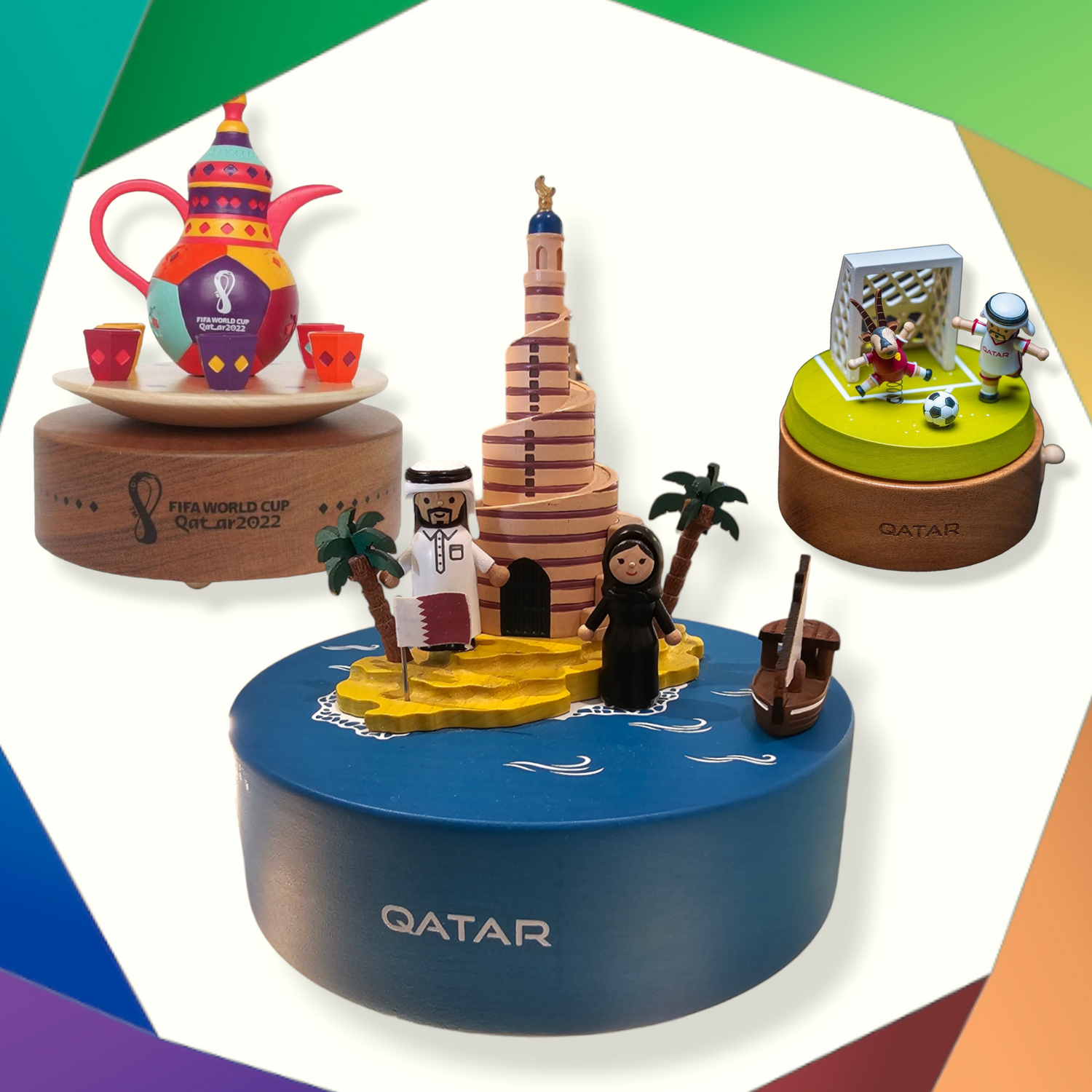 LIMITED EDITION MUSIC BOX
Islamic Cultural Center (FANAR)
Qatar Football FIFA World Cup 2022
Dallah and Ghawa Set
These unique pieces make great gifts or additions to your own collection.
Visit our website now to order while supplies last!
SHOP HERE
Why choose Wooderful Music Box?
Unique and Exquisite Designs

Each music box is uniquely designed with intricate details, making it a stunning addition to any living space.

Soothing Melodies

Our music boxes not only create a relaxing atmosphere but also feature classic tunes that are timeless and cherished by all generations.

Perfect Gift Choice

Choose a unique gift, also a timeless piece that can be cherished by people of all ages for years to come, an ideal choice for any occasion.
Frequent Asked Questions...
What is Wooderful Life?

Wooderful Life is a brand that offers unique and high-quality hand-made wooden crafted music boxes, figurines, lamps, and more.
These products are designed to bring joy, warmth, creativity, and an exceptional experience into your living space, which makes it a perfect gift for any ocasion and suitable for all ages.
Can I customize my order?

We are currently offering CUSTOM NAME and GIFT WRAPPING services for our products. Make your purchase extra special and personalized with these options at checkout.
How long does it take to receive my order after placing it online?

We strive to process orders as quickly as possible so you can enjoy our products without delay! Shipping time depends on your location but typically takes 1-2 business days within Qatar and up to two weeks for international orders.
What payment methods do you accept?

We accept various payment methods including cash-on-delivery (COD), bank transfer, debit/credit cards (Visa/Mastercard).
Can I return an item if I am not satisfied with it?

If there are any issues with your purchase please reach out to us immediately so we can make things right! You may be eligible for returns or exchanges depending on the situation - see our Return Policy page for more details.
Are your products environmentally friendly/sustainable/green/etc.?

At Wooderful Life we care deeply about the environment which is why we use sustainable materials wherever possible throughout production processes while minimizing waste through efficient manufacturing systems aiming at reducing carbon footprint in every step of its journey from forest-to-doorstep.
SECURE PAYMENT

ECO-FRIENDLY MATERIALS

CUSTOMER SUPPORT